BIOGRAPHY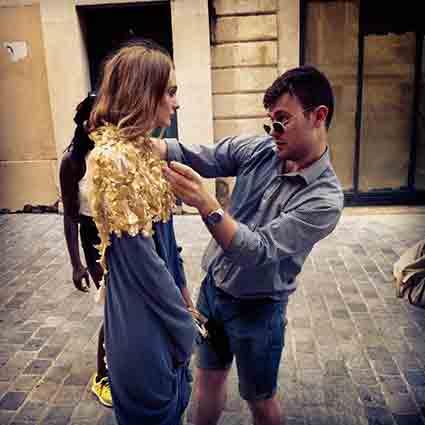 International Hairdresser/Make up Artist

Mission Statement: "To inspire by and create what I've always loved to do... Beautiful, fashionable forward-thinking Hair & Makeup using my very own Techniques" - Nick Clark
Nick Clark is a Hairdresser/Makeup Artist with over 13 years experience, he started as a Saturday boy in his very first salon at the age of 14yrs old, and soon realised that this was his calling. Trained in London by Toni&Guy, he discovered that there were much more added opportunities than having realised to hairdressing and makeup while still working in a salon, it was during this time in London before moving to France, that he embarked on the adventure of doing regular Editorial Photoshoots, and working backstage at London Fashion Week and Fashion Weekend.
Now based in Paris for over 5 years, one of the world's best loved fashion capitals, he continues his creative endeavour while also having opened up his very own hairdressing salon, working alongside talented Fashion Photographers such as Emily Soto, having work published in 'The Impossible Projet Exhibitions' and Fashion Magazines like Lomography Magazine, Thrifty Hunter Magazine.
Nick Clark's approach to hair and make up has always been very open and modern, with a passion for strong technique, product technology and an attitude to always learn more and improve, while evolving with fashion. He is a big lover of precision haircuts, bright, rich colour, architectural hair shapes and glam makeup, but he also throughly enjoys the classic and contemporary side, priding himself on being able to adapt to any clients hair/makeup needs, forming a very pleasant and professional rapport.
The salon «Nick Clark Hairdressing» can be found in the 11ème, one of the best loved and modern Bohemian quartiers of Paris. Of which, Nick Clark is waiting to warmly welcome you, he is also very proud to announce being the first ever salon in France to ever host Kerastraight, a remarkable Brazilan Blowdry treatment which he personally considers the best there is on the market for all men and women.

Le motive: « Inspirer et créer ce que je vis à faire... les plus beaux cheveux et maquillage en utilisant mes propres techniques » - Nick Clark
Nick Clark est un coiffeur polyvalent et maquilleur depuis plus que 13ans, il a commencé ce chemin dans son premier salon de coiffure à jamais, en ayant été un assistant du weekend. Pour lui, c'était très clair dans un très peu de temps qu'il a trouvé le métier de sa vie. En ayant été formé à la base chez Toni&Guy à Londres, Nick Clark a bien découvert qu'il y a eu beaucoup plus de possibilités et belles opportunités dans la coiffure et le maquillage en même temps de travailler dans un salon de coiffure. Pendant sa carrière à Londres avant le déménagement en France, il a bien commencé l'aventure des shootings de la mode réguliers, participé dans le concours 'British Hairdressing Awards' ainsi qu'en ayant eu l'opportunité à travailler derrière de la scène aux semaines et week-ends de la mode à Londres plusieurs fois.
Aujourd'hui, il est à Paris depuis plus que 5ans, l'une de plus belles capitales de la mode mondiale. Où il continue donc encore son chemin de créativité en travaillant avec des photographes tellement doués comme Emily Soto, avoir son travaille publié dans 'les Exhibitions Projet Impossible' et les magazines tendances Lomography Magazine et Thrifty Hunter Magazine, pendant qu'il a également ouvert son propre salon de coiffure.
Nick Clark s'approche à l'art de la coiffure et le maquillage avec un esprit très ouvert, moderne, et un très bon discipline de technique pendant qu'il garde une bonne attitude de toujours apprendre et se former dans un beau métier toujours en train de s'évoluer. Personnellement, Il adore fortement au fond de cœur les coupes précisions, la coiffure architecturale, la coloration audacieuse,lumineuse et le maquillage haute-couture, mais il adore et respecte également le côté classique et contemporain beaucoup aussi. C'est pourquoi, avec un orgueil profond, il se propose d'être très capable d'être un coiffeur/maquilleur polyvalent pour touts besoins de tout type de client en formant également un rapport très chaleureux et professionnel en même temps.
Le salon de coiffure «NICK CLARK HAIRDRESSING» est situé dans 11ème arrondissement de Paris, un des plus beaux quartiers parisiens bohèmes et moderne. C'est ici, Nick Clark attend à vous donner un très bon accueil, il est également très fier d'être le premier salon de coiffure qui représente «Kerastraight» la marque anglaise du lissage brésilien prestigieux qu'il croit d'être le meilleur sur la marché à jamais pour tous Homme et Femme.
Special Services
Product Testing/Product Development Hair& Make up
Hair&Makeup for Film/TV/Coiffeur & Maquilleur Film TV
Hair & Make up for Fashion Weeks/Coiffeur & Maquilleur des Fashion Weeks
Team Leader/Artistic Direction Hair & Make Up for all Fashion Weeks & Creative Projects
Presenting/Demonstration Work/Présentateur
Clients/Worked for